09/30/2022 / By News Editors
---
Rados?aw Sikorski, MEP, former Polish defence minister and husband of well-connected neoconservative intellectual Anne Appelbaum, has publicly thanked the United States for attacking the Nord Stream pipelines.
(Article republished from Eugyppius.com)
Jim Geraghty, senior political correspondent for the American political journal National Review, has also praised the attacks in a brief column under the headline "Who Will Rid Me of This Meddlesome Pipeline?" He's been arguing about the importance of taking Nord Stream 2 offline since February, and suggests that the present attacks reflect his influence.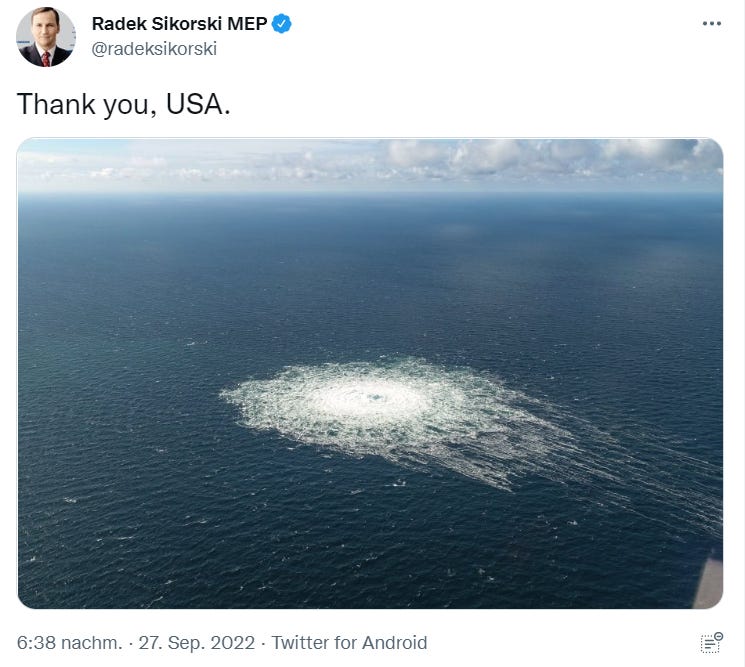 The biggest detail to break since I went to sleep yesterday, is this claim made by an anonymous intelligence source to Der Spiegel, that the CIA had warned Germany of Baltic pipeline attacks over the summer:
The United States warned the German government weeks ago of possible attacks on gas pipelines in the Baltic Sea. According to information from SPIEGEL, a corresponding tip from the US intelligence service CIA was received in Berlin in the summer.

Several persons familiar with the matter confirmed this. …

Even before the invasion of Ukraine, Nato partners had repeatedly pointed to suspicious activities of Russian ships over nodes of the underwater networks.

However, an initial analysis of satellite images from the area of the incidents showed only inconspicuous ship traffic at first glance, security circles said.
The Tagesspiegel has a longer piece today trying to come up with a plausible motive for Russia. They imagine that a Russian attack might have had the purpose of allowing Gazprom to escape contractual requirements to deliver gas through Nord Stream 1, thus driving European energy prices higher. Alternatively, they propose it might've been a ruse to circumvent sanctions for the repair of the pipeline. To even retype these theses is to reveal their infirmity.
The damage is expected to be extensive, and the gas will probably continue to vent for up to two weeks. The company that operates Nord Stream 1 has not ruled out a repair attempt. Nord Stream 2 AG spokesman Ulrich Lissek told NDR that images of the venting gas suggest that "the structural integrity of the pipeline must be massively damaged."
Meanwhile, the German and EU officials have promised to get to the bottom of this and threatened the saboteur with sanctions.
For more, see the updates to yesterday's post.
UPDATE: One speculative point I'm been thinking about, is it looks like the attacks were partially botched. According to all reports, one of the Nord Stream 2 pipes has not been ruptured, and about 17 hours passed between the first and second explosions. Ideally they would've cut all four pipes simultaneously, no?
Read more at: Eugyppius.com
Submit a correction >>